🚀 How To Start
RE: The thing you've been putting off forever
Tony Robbins talks about the 2-millimetre rule. Which is incidentally too small to make a dick joke about, but hey, it's got some value to it.
It's the tiny habits that keep pushing you along 2 millimetres at a time. So when it feels like you're not making progress, you actually are - it's just slow and incremental.
Where this doesn't help is when we're browsing through Netflix, or have offered ourselves to the YouTube algorithm gods, all while pressing the big red Instant Gratification button.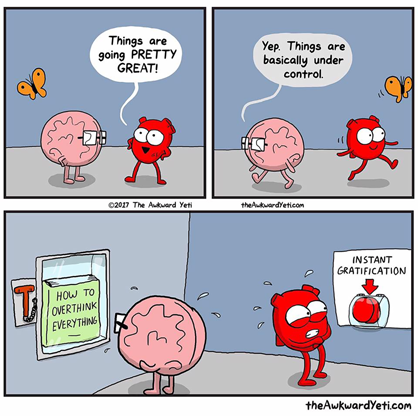 So how the hell do you start?
🥇 3 Things To Help You Start
If it hasn't worked for me, it's not on this list. That's the guarantee I can give you good sir or madam.
If something's too complicated or complex I'll procrastinate on it - but if I map it out step by step, and break it down into smaller tasks on paper, it forces me to:
a) Make a start and get some momentum.
b) Get clarity on paper rather than these ill-formed floating thoughts in my head.

If it's a big life-changing thing, I'll write down what it looks like in two weeks, six weeks, six months, and two years. - oh yes, there's going to be a lot of writing going on.

Fear is a massive barrier-to-entry, so the best thing you can do is called Fear Setting - it was instrumental for me to take the solo travel plunge for a year.
If you actually try these exercises, the worst thing that can happen is they don't work for you. The best thing that could happen is that they give you massive clarity on how to start your thing - that's some pretty fantastic risk to reward ratios, my dude or dudette.
---
🔗 Link Dump
Here are some spicy gems and some articles I've written recently 🌶️
---
📰 My News Detox
I used to think of people who actively avoid the news as willfully ignorant people. "You need to stay informed, guy." - that was my default thought.
In the past month, I realised how detrimental the impact of news has been on my mental state. Bad news after bad news, fear-mongering, and arguments - and this was happening from the moment I woke up to when I fell asleep.
That's like feeding your brain Cheetos 24/7; addicting, and probably going to defy biology and give your brain a heart-attack.
So I decided to stop the intake, or rather control it. Here's how I'm doing it if you're feeling the same way lately.
I stay informed with a few curators, and Morning Brew is my favourite - this solves the frequency problem i.e. I'm not clicking on anything else.

I'm only consuming media for learning and entertainment - social and political commentary channels, publications, and profiles are out.

I'm not consuming news before 11 am or after 5 pm.

When people send me articles, my default reply is "sorry, I'm on a news detox."
And that, ladies and gentleman, is how I'm going about my detox - and it's early, but hey, it's working well so far. Give it a try and let me know if it works for you :)
---
Hope you enjoyed this early-week sprinkle of thoughts and feels. I'll try to be more consistent with this, but I'm conscious of fluff pieces, you know? I have to make sure there's some value hitting your inbox. 😎
There's a cool article I've written that's in the middle of being edited - the writers, marketers, and storytellers might be interested.
I'll share it later this week, but until then, have a fantastic day, you beautiful human you.
Sah